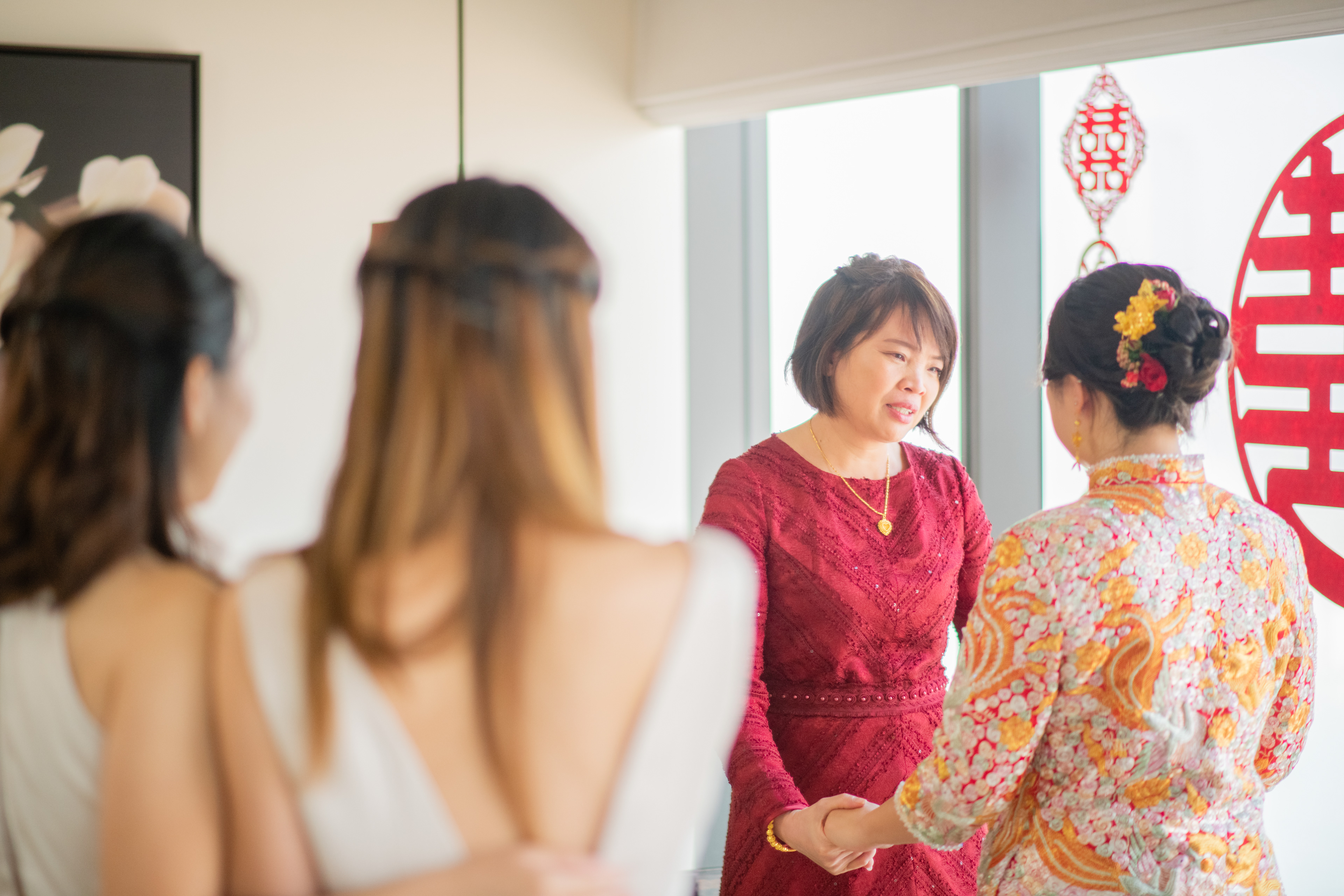 我在婚禮早上的拍攝過程 ( 二 )
My shooting process in the morning on the wedding Big Day (2)
2019/08/18
(Scroll down for English version)
金器和環境的拍攝後,就是為已經化妝好的新娘開始拍照。
婚禮上一般上午八點半開拍攝新娘,化妝師就要六點半開始為新娘化妝,兩小時化後就由攝影師接力。我會先為新娘拍攝一些補妝的照片,作為早上拍攝新娘的第一個開始,即使已有心理準備但面對鏡頭依然會有點緊張。隨著我一邊講笑一邊引導新娘的身體動作,新娘自然地放鬆下來。
婚禮早上姊妹同樣是拍攝新娘的重要環節,當安排好姊妹們所在的位置,姊妹們就會為新娘穿上她的嫁衣。姊妹們一邊與新娘交流打打鬧鬧,而我就在一旁靜靜地為她們記錄這一個重要回憶。
然後就到了外母出場的時間,外母藉住這個動人的時刻向新娘表達女兒出嫁的感受,捉著母親的雙手,手裹感受著母親的體溫,耳朵聽著母親的說話,新娘的眼角也按捺不住感動的淚水。很多時候隨著孩子的長大,父母對孩子關心的說話也開始少說,但心底裹的愛卻從未有改變,或許今天正正是最好的時機,表達對孩子的愛。
拍攝新娘後就到拍攝新郎和兄弟們的環節,能夠在婚禮當天以兄弟身分參與婚禮,在新郎心中也一定佔了不少份量,新郎和兄弟的拍攝一般比較簡單,除了花車佈置和派利是新郎兄弟互動,之後就是一些造型拍攝,然後男士們就可以準備接新娘。
遊戲一般是接新娘中的重要環節,新婚和姊妹精心準備別出心裁的遊戲,新郎過五關斬六將完成重重困難,在歡笑聲中紀錄接新娘的過程,是最能感受到婚禮的氣氛。
遊戲後新郎終見到新娘,在外父帶新娘出來,向新郎交代後,在一片歡呼聲中新人吻下新婚當日的第一吻。
After taking photos of the gold accessories and the venue, I would start taking pictures of the bride who has finished with makeup. 
 The bride's photoshoot would usually take place at 8:30 am on the wedding day. The makeup artist would start doing the bride's makeup at 6:30 am for two hours, the photographer would then take over. I will take some photos of the makeup session for the bride first. As this is the first photo-taking session for the bride in the morning, even if the bride is mentally prepared, she may still feel a little nervous when facing the camera. I would make jokes and guide the bride's body movements, the bride can then naturally relax.
 Bridesmaids are also an important part of the morning photoshoot with the bride. Once I have placed the bridesmaids into their positions, the bridesmaids will then help the bride put on her wedding gown. While they have a fun moment with the bride, I would quietly record this important memory for them.
Then it will be the time for the bride's mother, the bride's mother can use this moving moment to express her feelings for the bride's marriage. The bride will be holding the mother's hands, arms hugging and feeling her mother's body temperature, her ears listened to her mother's words, the bride's eyes could not help but fill the tears. A lot of times, as the children grow up, the parents will have less to say to their children. But for sure their love for the children deep inside their heart will never change. Perhaps the wedding day will be the best time to express their love.
After taking photos of the bride, I would photograph the bridegroom and the groomsmen. Those who are able to participate as groomsmen must be someone special to the bridegroom too. The photoshoot for the groom and the groomsmen is generally simple. Besides taking photos of the wedding car and the bridegroom distributing red packets, it would be the interaction between the groom and the groomsmen having a fun moment together. After more modeling style photos, the men can then prepare to pick up the bride.
The game is usually an important part of picking up the bride. The newlyweds and bridesmaid prepared a lot for the games. The bridegroom would have to strive to complete all the challenging game. Amongst the laughter and smiles, the process of picking up the bride is the most satisfying atmosphere of the wedding.
 After completing the games, the bridegroom can finally see the bride. After the bride's father gradually takes the bride out and gives the bridegroom his blessings, the couple can finally have their first kiss on the wedding day with the cheers from the crowd.